Armstrong's Funeral Home
A brief history of our business.
It was in the early 1950's that Donald E. "Don" Armstrong, a farmer from Salisbury, packed up his family and moved to Petitcodiac. After taking up temporary residence in Petitcodiac they eventually settled on the Pollett River Road and shortly thereafter Don took over the local funeral home business now known as Armstrong's Funeral Home.
Sadly Don's new career was to be cut too short when he passed away at the age of 48, in 1971. Upon his death his son, Gary S. Armstrong, having completed his professional training and received his funeral director's license only the year before, took over the family business. Gary's tenure at the helm of the firm would last more than 35 years and would see the business prosper and evolve. Gary would add a Moncton funeral home to his interests for much of that period and, while he eventually sold that property, the original family firm would remain in his hands until his own untimely death in 2007.
Among Gary's many professional accomplishments would be introducing a third generation of Armstrong's to the profession. His daughter Paula Armstrong joined her father in 1994 after obtaining her funeral director's credentials and, in her turn, took over the firm upon her father's passing.
Early in 2008 Paula Armstrong made the decision to leave the business and sought out suitable candidates to carry on her family's business and shoulder the responsibilities the Armstrong's had managed for a half-century. She found what she was looking for in Terry & Tina Rogers. An experienced funeral director, Terry entered the profession in 1990, working in Moncton, Sussex and Truro, NS. Tina brought her own business management experience and, best of all, the move to Armstrong's was a homecoming for both. Terry grew up in Salisbury and Tina (Murray) right here in Petitcodiac. Both families still reside in the area.
Along with their return home and the purchase of the business in 2008, Terry and Tina also created a partnership with the Sussex Select Community Funeral Home. A subsequent career change by the owner/manager in that location saw the Rogers assume management of both funeral homes. Today Terry and Tina split their time between Petitcodiac and Sussex, working with an experienced team of licensed and support staff in each community to ensure that all their families receive the highest quality of care and service.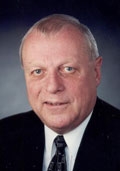 In Tribute
Gary S. Armstrong
1946 - 2007
On May 3, 2007 our community along with New Brunswick's funeral service profession shared a painful loss with the passing of Gary S. Armstrong.
Gary's contributions to his community through more than three decades as a funeral director and years of service on municipal council will never be forgotten and his legacy of service in our business will remain a point of pride for those of us who carry on in his place.